It was a special afternoon at Glenroy College last week when families gathered to celebrate the achievements of both our Year 12 graduating class and our top students from across the school.
It's the first time families have been able to come together at Glenroy College to celebrate their children's successes – and to farewell a Year 12 graduating class – since before the Covid pandemic threw the entire world into disarray back in 2020.
The best students from each level were recognised and rewarded for their hard work and dedication to learning during the year, while our brightest were also honoured with special awards, scholarships and cash prizes from outside organisations. And our Year 12 students also donned graduation gowns in Glenroy purple for a special farewell as they start their post-school lives.
Celebrating success at Glenroy College
Principal Graham Stevenson told the crowd of students and their proud relatives that it had been a momentous year.
"Those of you who receive awards tonight have applied yourselves, displayed rigor and persistence, resulting in success. Your families should be proud of you and you should be proud of yourselves," Mr Stevenson said.
He thanked families of the graduating Year 12 class for supporting their children through their secondary school journey at Glenroy.
"Research tells us that the stronger the partnership we can form with parents and carers, the better the outcomes. So we thank you for your support," he said. "We also acknowledge our 2022 Year 12 students as they finish a significant chapter of their lives.
"Our vision as a school is to equip you with the knowledge, skills and dispositions for lifelong learning and to shape the world around you. I think you leave Glenroy College equipped to achieve this vision."
Awards and scholarships honours list
Year 12 student Ali Khaled and Year 10 student Angus Simmons-Wood were joint worthy winners of the Australia Defence Force Long Tan Youth Leadership and Teamwork award. This prize gives $550 to a Year 12 student and $250 to a Year 10 student who demonstrates leadership and teamwork at school , and who shows strong values that are central to the ethos of the ADF and Australian society, such as respect for others.
The ADF also granted a Future Innovators Award to two students who showed impressive progress in STEM (Science, Technology, Engineering and Maths). The Year 10 prize of $250 went to Bailey Lowe-Joyce, while Jordan Do received the $550 Year 12 prize.
Year 12 student Fatima Ali received the Ampol Best All-Rounder award and Year 10 student Sailesh Gautum was a worthy recipient of the Owan Turner Memorial Scholarship. Four students – Zak Chakdim, Yusuf Malik, Rami Yousif and Tenisha Thomas – shared the Lions Club of Glenroy Award,
Other awards went to our brightest and best art students, and to students who demonstrate College values of leadership and respect. Keep on reading to see the full list of winners.
Glenroy College 2022 Awards Honours List
Year 7 awards
English: Syreen Saleh
EAL: Acile Chaker
Maths: Ethan Vergara
Science: Sabirin Salim
Humanities: Zak Ternes
Digitech: Omar Taleb
Health & PE: Muhammad Mahad Ibrahim
Food Tech: Sabirin Salim
Textiles: Syreen Saleh
Woodwork: David Calnan
Art: Ethan Vergara
Drama: Jackson Italia
---
Year 8 awards
English: Muhammad Khan
EAL: Jenina Oli
Maths: Fatemeh Mousavi
Science: Abu Bakr Abd Alhamid Rafea
Humanities: Abu Bakr Abd Alhamid Rafea
Digital Technology: Hayley Lazzaro
Food Technology: Hayley Lazzaro
Textiles: Fatemeh Mousavi
Art: Muhammad Khan
Drama: Jez Jones
Music: Moussa Mourad
Instrumental Music: Fatemeh Mousavi
Health & PE: Muhammad Khan
---
Year 9 awards
English: Aaminah Brookman
EAL: Diparshan Neupane
MYLNS: Moustafa Abou-Eid
Maths: Syed Muhammad Mohid Raza
Science: Diparshan Neupane
Humanities: Syed Muhammad Mohid Raza
Digital Technology: Aaminah Brookman
Food Technology: Ameera Hussein
Textiles: Jessica Alkhalaf
Woodwork: Tyler Polkinghorne
Art: Bahar Alihosseini
Drama: Foster Wright
Media: Bahar Alihosseini
Music: Fatima Ahmad
Instrumental Music: Josua Cavalevu Matanibukaca
Health & PE: Josua Cavalevu Matanibukaca
---
Year 10 awards
English: Emirhan Bigay
Foundation English: Alishba Tauseef
EAL: Banibal Zoumaya
MYLNS: Sailesh Gautam
Maths: Jamil Ayoubi
Science: Ashirya Oli
Biology: Bailey Lowe-Joyce
Chemistry: Sebastian Renaud
Forensic Science: Alishba Tauseef
Physics: Afdhil Abdul Cader
Psychology: Rowan Taylor
Business Management: Afdhil Abdul Cader
History: Rowan Taylor
Legal Studies: Alishba Tauseef
Digital Technology: Rowan Taylor
Woodwork: Afdhil Cader
Art: Alishba Tauseef
Drama: Alishba Tauseef
Media: Ashirya Oli
Physical Education: Nathan Stephenson
---
Year 11 awards
English: Kayla Harrison
Foundation English: Benjamin Clarke
EAL: Elian Youkhana
Maths: Ekrem Gulsen
Biology: Ibrahim Taha
Chemistry: Tenisha Thomas
Psychology: Dilhan Koch
Business Management: Kayla Harrison
History: Michael Habeeb
Legal Studies: Kayla Harrison
Digital Technology: Jouri Odicho
Food Technology: Rayane El Zaghir
Woodwork: Benjamin Clarke
Art: Nourhan Chaker
Health & Human Development: Kadija Allami
VCAL Literacy: Bonnie Darmanin
VCAL Numeracy: Jean Nott
VCAL Personal Development Skills: Layla Kassab
VCAL Work Related Skills: Shereen El Chami
---
Year 12 awards
English: Ali Khaled
EAL: Rachel Alkhalaf
Maths: Bernice Vergara
Biology: Ali Khaled
Psychology: Ali Khaled
Business Management: Ali Khaled
Legal Studies: Fatima Ali
Food Technology: Prisha Mandri
Art: Nurgul Agaoglu
Media: Hind Kerhani
Health & Human Development: Bronte Hood
VCAL Literacy: Lajyane Mustapha
VCAL Numeracy: Mohammad Latifi
VCAL Personal Development Skills: Ashley D'Augello
VCAL Work Related Skills: Jordan Do
VCAL – Industry Excellence: Jordan Do
---
Achievement awards
Library Excellence Award
Omar Jammal
Abu Bakr Alhamid Rafea
Houssian Cheik
Kenth Fernandez
Insight English Award
Kayla Harrison
Scholarship Awards
Mohammed Cheik
Kayla Harrison
Tenisha Thomas
Liam Wright
Australian Defence Future Innovators Award
Bailey Lowe-Joyce
Jordan Do
Australian Defence Force – Leadership Award
Angus Simmons-Wood
Ali Khaled
Anita Henna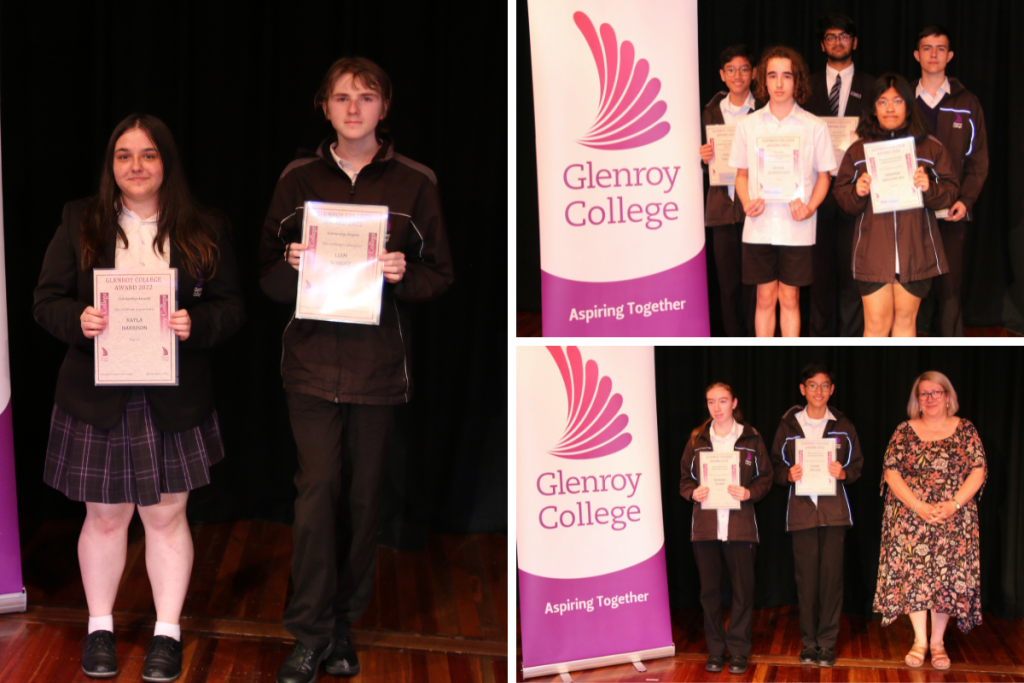 Lions Club of Glenroy Award
Zak Chakdim
Yusuf Malik
Rami Yousif
Tenisha Thomas
Owan Turner Memorial Scholarship
Sailesh Gautam
Joe Erjavec Art Achievement Award
Ethan Vergara
Alishba Tauseef
Katina Miari Literacy Award
Hamza-Youssef Mustafa
Abdul Monhem Sarayah
Mahmoud Taha
Mohammed Cheik
Lowes Outstanding Achievement Award
Ethan Vergara
George Adamopoulos
Mohid Raza
Sanadhee Ariyathilaka
Ekrem Gulsen
Ampol All-Rounder Award
Fatima Ali
Docherty Award
Mohammad Latifi
Prisha Mandri
Kwong Lee Dow Award
Alishba Tauseef
Bailey Lowe-Joyce
---
Congratulations again to all our student award winners and good luck to all our Year 12s. We wish you all the very best as you start your new lives away from Glenroy College.
Keep up with all the latest news from Glenroy College. Come and follow us on Facebook.