Teenager Alishba Tauseef remembers all the feelings that swirled when her father called early one morning from Australia with the news that their family could finally pack up their life in Pakistan and join him in Melbourne.
That stomach-churning mix of excitement and horror, of impossible butterflies and slow-simmering, nervous angst. The idea of leaving behind her family and friends, her teachers, her classmates, her house and everything she had ever known for a new life in a strange country. That sense of dread mingled with the sense of possibilities. Of what might be, if only she could be brave enough.
"I was so excited and happy, but so scared at the same time," Alishba remembers. "We were waiting so long to be accepted into Australia that we didn't think it was ever going to happen. We didn't know what to think when we were finally accepted, except it was so wonderful to know we were all going to be together again."
From Karachi to Glenroy
That was two years ago. And Alishba, now 15, has worked hard to embrace all the opportunities that her adopted country – and her new school – have provided, despite the challenges from being caught in a global pandemic.
"This is my first school in Australia and I love it. It's not always perfect, but it really feels like the place I want to be," Alishba says. "The teachers really listen to you and help you when you need it. I love the friends I have made here. There's nowhere else I want to be."
The Year 9 student has just been awarded a scholarship from the Harding Miller Education Foundation. The honour is given to female students who show "enormous potential to achieve academic excellence and significant professional success", according to scholarship program manager Caroline Hill.
"We are thrilled to be supporting such an inspiring student and are proud to be accompanying you along your journey," Ms Hill told Alishba.
The generous prize includes $10,000 to help meet Alishba's education costs for the next three years, as well as a new laptop and a personal mentor to help guide her through her final years of school. And this high-achieving student deserves every single accolade flowing her way.
"I don't have a perfect plan worked out. It changes every single day. There's so many things I want to try, so many things I want to be," she says.
The future is bright
But the one thing that doesn't change is that Alishba sees her future here in Australia and – for the next few years until she graduates – right here at Glenroy College.
"This scholarship means that I don't have to leave, that I can stay at Glenroy all the way up to VCE. And that makes me very happy," she says.
"I miss Pakistan, I think I will always miss it. And the food … oh I miss the street food so much. But my life is here. When I say that I'm going to make my life here, that I want to make my life here, it feels good. It feels right for me."
Never stop learning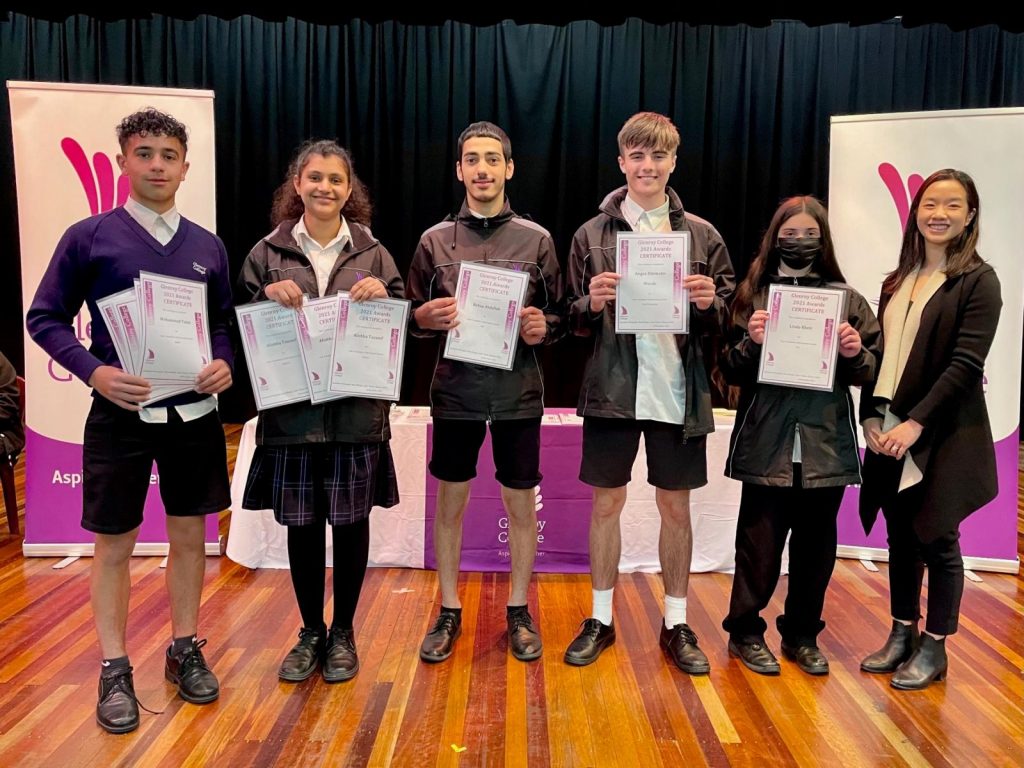 Alishba thanked her parents for instilling in her the idea that study – and lifelong learning – is important. Her father is a teacher, her mother is studying to become an early childhood teacher and her brother is studying business at university. The advice paid dividends when Alishba received multiple accolades from teachers in the Glenroy College end-of-year award presentations last week.
"They always tell me how important it is to focus on your schoolwork, to always do your best – and it's so true," she says. "It's something I always try to do."
She also sent special thanks to Junior Subshool manager Andrew Lewis for supporting her on her learning journey. "This is for Mr Lewis too. He has helped me so much," Alishba says. "He's really the best."
Well done, Alishba
Mr Lewis congratulated the Year 9 student leader on her "well-deserved achievement."
"Alishba is the type of student that  every teacher dreams of having in their class. She's dedicated to her studies but also, energetic, friendly and always tries her absolute best. There is no other student that I think is more deserving of winning a scholarship of this calibre," Mr Lewis says.
Come and follow us on Facebook to keep in the know about all the latest news from Glenroy College.